2023
Time Service = Qualified Labor!

While the Global Pandemic may be over, its shock-waves continue to reverberate. Most industries and businesses are experiencing labor shortages; struggling to get back to pre-pandemic staffing levels. Our segment is no exception.

While everyone is pushing to bolster their ranks with qualified Inspection, Loss Control, and Premium Audit personnel, the same labor shortage also impacts the policy-holders' ability to commit to appointments as they are rightfully pre-occupied with their own staffing woes.

Although the basic equation seems simple, "Time Service = Qualified Labor" requires constant study and effort especially on the "Labor" variable. The formula for "Labor" is quite challenging but fortunately we have some very good people working the problem. We continue to on-board as many qualified representatives as possible. The operative word being "qualified".

To this end, we have expanded our already large group of Quality & Training staff with additional managers, supervisors, and reviewers. With these additional resources, we continue to expand our training and mentoring "foot-print" which in turn, adds more stabilized staff to our roster within a shorter time period. This increase in qualified staff equates to improved Time Service as more of the industry back-log is handled.

When is the equation solved? For MTI, some geographic and operational areas have been back to pre-pandemic time service levels for quite some time. In back-log areas, the equation is continuously worked. We also are expanding approaches created out of necessity during the pandemic into mainstream survey options. A perfect example is that of Virtual Field Surveys.

For appropriate risks, Virtual Field Surveys can help to reduce time service by providing a potentially easier appointment path for policy-holders. Obviously, time service cannot be improved at the cost of quality. Dedicated, experienced field reps handle our Virtual Field Surveys. MTI uses our Virtual Field Surveys only with our customers' authorization after thoroughly discussing the triggers of "when", "where", and "types of risks" to initiate this service.

For 35 years MTI has been a professional resource for our customers' needs. We continue to professionally solve the "Time Service = Qualified Labor" equation.
Professional Attendance - 2023

MTI is scheduled to attend the following professional engagements for 2023. Additional development opportunities will be added to our schedule throughout the year. We would welcome the opportunity to visit with you now but if you prefer to schedule a visit with us at the venue, please Contact us. We look forward to seeing you.
IRMI (Insurance Risk Management Institute) AGRICON - Sacramento, CA - February 5 - 7


ASA (Association of Subcontractors and Affiliates) Chicago Construction Expo & Safety Conference - Oakbrook Terrace, IL - March 7


NAMIC (National Association of Mutual Insurance Companies) Commercial & Personal Lines Conference - Chicago, IL - March 8 - 10


Verisk / Velocity PAAS Audit Forum - Scottsdale, AZ - April 11 - 14


PIA (Professional Insurance Agents) of Indiana Conference - Indianapolis, IN - May 4


NSIPA (National Society of Insurance Premium Auditors) Annual Audit Seminar - Orlando, FL - May 7 - 9 (Booth)


IIAW (Independent Insurance Agents of Wisconsin) INSURCON - Oshkosh, WI - May 16 - 17


NAMIC (National Association of Mutual Insurance Companies) Farm Mutual Forum - Louisville, KY - May 23 - 25


DIGIN (Digital Insurance) Conference - San Francisco, CA - June 5 - 7


FAIA (Florida Association of Insurance Agents) Convention - Orlando, FL - June 14 - 16


NFPA (National Fire Protection Association) Annual Conference - Las Vegas, NV - June 19 - 21


NAMIC (National Association of Mutual Insurance Companies) Agricultural Risk Inspection School - Indianapolis, IN - July 26 - 27


WAMIC (Wisconsin Association of Mutual Insurance Companies) Annual Convention 2023 - Stevens Point, WI - September 10 - 12


NAMIC (National Association of Mutual Insurance Companies) National Conference - National Harbor, MD - September 17 - 20


National Workers' Compensation & Disability Conference & Expo - Las Vegas, NV - September 20 - 22


Ohio Insurance Agents Association - Columbus, OH - October 4 - 5


PIA (Professional Insurance Agents) of Wisconsin Conference - Lake Geneva, WI - October 4 - 5


IIA (Independent Insurance Agents) of Illinois Convention - Peoria, IL - October 10 - 12


InsureTech Connect Conference - Las Vegas, NV - October 31 - November 2


ARCO (Associated Reporting Companies) Annual Meeting - Austin, TX - November 5 - 6


ERGO National Ergonomics Conference & Expo - Las Vegas, NV - November 7 - 10


ILCA (Insurance Loss Control Association) Conference - TBD


Archive Collection
Membership in Target Markets Program Administrators Association

MTI is pleased to announce that we are a member of the Target Markets Program Administrators Association. The Target Markets Program Administrators Association is an organization dedicated to the unique challenges of Program Specialists. The TMPAA defines Program Business as insurance products targeted to a particular niche market or class, generally representing a book of similar risks placed with one carrier. MTI has a long history of performing "program" work in the inspection, loss control, and premium audit areas. We are looking forward to developing new, and strengthening existing, working relationships. Origin September 2016.
Community Involvement

Two of our Directors were able to volunteer with the DuPage Habitat for Humanity in a giveback program coordinated by the Society of Casualty Safety Engineers (SCSE). John McCluskey, Director of Sales & Marketing, current board member and recent past President of SCSE, and Steven Knych, Director of Operations and current President of SCSE, joined their peers in making a difference. DuPage Habitat homes are not given away, nor are they earned solely through "sweat equity". Homes are built by volunteers and partner families and then sold to the families on the basis of need, ability to re-pay a 30-year mortgage, and a willingness to invest 250 hours of "sweat equity" in Habitat's work in the community. Habitat International was founded in 1976 and has built over 800,000 homes since their inception. The DuPage chapter was started in 1995 and has constructed over 80 homes locally to date. The opportunity is very rewarding because you are helping out a local family in need of help and the legacy of what you have provided will continue to provide for future generations. Origin June 2016.
Introducing GISA Secure Documents Portal

MTI has launched our new GISA – Secure Documents Portal. This represents a significant upgrade to our already robust data security protocols that ensure the secure transfer of all sensitive documentation obtained during the audit process. This new feature allows audited insureds to link to a secure portal and "post" their required documentation without the fear of the information falling into the wrong hands. Once the information is posted, it remains on our secure servers until the audit process is concluded. After 30 days, the documentation is permanently deleted from our system.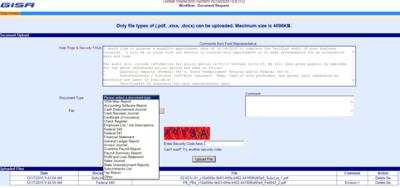 In the past, documentation was commonly sent via email or fax to the auditor so they could review while completing the audit. These transfer processes are difficult to secure and can be unreliable as there is no guarantee the "receiver" has actually retrieved the information. Additionally, both of these older methods of document transfers often result in a printed "hard" copy of the documentation which creates additional data security concerns. Our Secure Documents Portal is tied into our GISA Security module which limits document access to the auditor and quality control personnel who need to view these documents.

As much of the audit and inspection industry continues to rely more heavily on the successful movement of information via electronic means, keeping this data secure has become a major concern for many of our clients. As a leading provider of Risk Management / Loss Control Services, MTI understands the importance of mitigating exposure and will continue to develop new ways to ensure this data is secure within our care and custody. MTI features this same process, and level of security, on all data transfers within our inspection operation.

If you would like to learn more about our GISA – Secure Documents Portal, please visit our Premium Audit Services home page. Origin January 2016.
MTI Attends Grain Safety Conference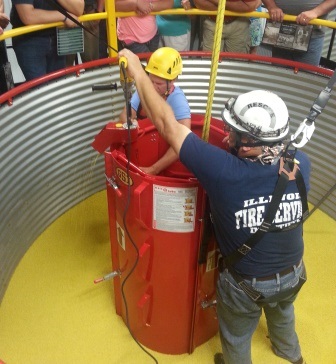 Recently, four representatives from MTI were able to attend a Grain Safety Conference at the Asmark Agricenter in Bloomington, IL. The conference was hosted by Country Financial and the Grain Handling Safety Coalition in an effort to help educate farmers on preventing accidents associated with grain operations. MTI sent representatives from both our Account Management and Quality Control & Training departments, so that the educational information could be shared with our field and review staff, as well as with our customers.

The conference was unique in that it included not only PowerPoint programs and topics presented by long termed industry professionals, but it also had several hands on demonstrations and simulations. These included a grain bin simulation, auger entanglement program, and a grain dust explosion demonstration.

The Asmark Agricenter is a state of the art facility that is doing a great job of trying to disseminate information to all facets of the agricultural industry with the goal of reducing or eliminating injuries and fatalities. Click here for more information on training through the Grain Handling Safety Coalition GHSC). Origin November 2014.
New Risk Assessment Program Released

Our MTSC Division is offering a new Risk Assessment Program that utilizes our staff of qualified Safety Consultants and Field Representatives. We will provide you with Loss Analysis and Exposure Development, a site visit and first hand observations, results focused recommendations and a closing conference for additional information and advice. We will also re-visit the site after a suitable amount of time, and report on recommendation compliance and improvements.

For more details, please contact your account manager or email our staff.
for more information.

Origin August 2014.
MTI Presents at NAMIC Personal Lines Conference

NAMIC held their National Personal Lines Conference in downtown Chicago March 19-21. MTI was honored to be a part of the very popular conference. We were given the opportunity to present "The Move from RCV to ACV for Roof Coverage" in one of the breakout sessions. We spoke for one hour about roof inspections and their importance in calculating depreciation of a roof. Origin May 2014.
MTI Announces New MSB Product Options!

MTI is a full service MSB replacement cost valuation provider that is also FIT enabled.
MTI offers the following products for all your valuation needs:

Commercial Lines
Agribusiness
Personal Lines: FIT Enabled

Replacement cost (standard / mid-range dwelling) $100k-649k
Replacement cost (high value dwelling) $650k and up
Replacement cost (mobile home)
Origin August 2013.
MTI's 25th Year Anniversary! Origin January 2013.

A Letter from the President:

I am pleased to announce that MTI has reached a milestone. We have just completed our 25th year in business and are now looking ahead to the next 25 years! I am very proud of our accomplishments over the past 25 years. From very humble beginnings, we have built our company into a well-respected National Inspection and Loss Control Company.

We have been successful through the years by providing excellent quality and service. Our company motto "Quality, Service, and You" is not just idle words. We also believe in our corporate philosophy, which simply put is the Golden Rule. This motto and philosophy has served us well over the past 25 years.

We have had a tremendous group of associates through the years that has made us successful. I believe we would not be where we are today without the dedication and service of everyone connected with MTI.

Our customers have been very loyal to us. Many of our original customers from day one are still with us today. We have built lasting relationships with our customers by providing the service and quality that they require, by exceeding their expectations and by treating them as we would want to be treated.

As we look forward to the future, we look forward to the exciting challenges that lie ahead. We will continue to follow the philosophy that has served us well for the past 25 years and look forward to earning the business of our current and future customers.

- Bob Carr, Sr.
Additional 4 Training courses receive accreditation through NIU

Northern Illinois University has approved 4 additional training courses for awarding continuing education credits. The four courses are:
Confinement Farming - 1 hour
Roof Inspections 101 - 1 hour
Workers Compensation - 2 hours
Contractors Liability - 1 hour
These courses meet NIU's standards for curriculum content and join a continuously growing list of courses offered by MTI including Commercial Lines 101, Garage Liability, Cooking Exposures, Solid Fuel Burning Devices, etc., for which CEUs can be obtained. Click here for more information on our training courses, course times, and registration information. Origin May 2012.